ORDER FULFILLMENT FOR FASHION
IronLinx's eCommerce order fulfillment operation has substantial experience in the fashion space. From complex routing guide compliance to return labels, branded packaging materials, custom pack-outs, and returns management, IronLinx has the knowledge and resources needed to streamline the fulfillment process for apparel, footwear, accessories, bags, and jewelry.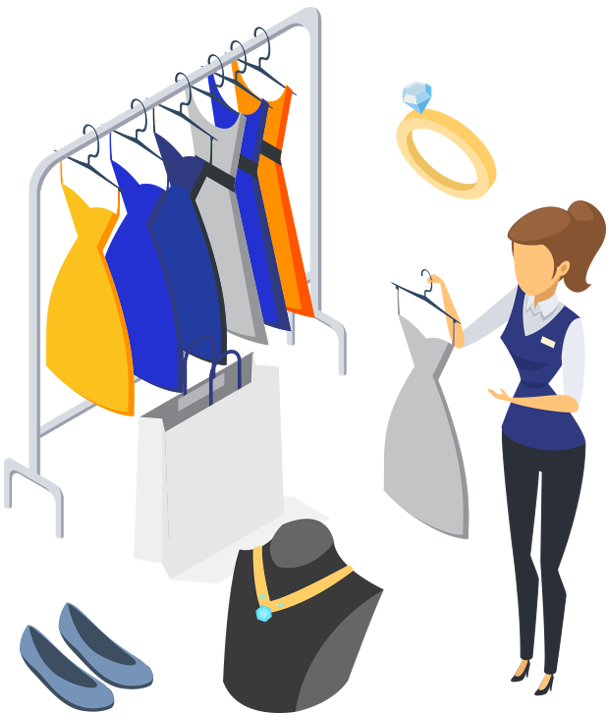 Order Fulfillment for Fashion
At nearly five hundred billion dollars in sales, the global market for apparel, footwear, accessories, bags, and jewelry is substantial. Driven by a burgeoning global middle class, the continued worldwide expansion and adoption of the internet, and the rapid proliferation of smart devices (especially phones), country-specific industry growth rates are substantially exceeding those of GDP levels across the world. From a fulfillment perspective, the fashion industry can be particularly nuanced. Notable issues include the special packaging and handling requirements for delicate and/or expensive items; custom pack-outs complete with branded packaging materials, marketing inserts, and return labels; wholesale routing guide compliance; multi-channel sales; and returns management.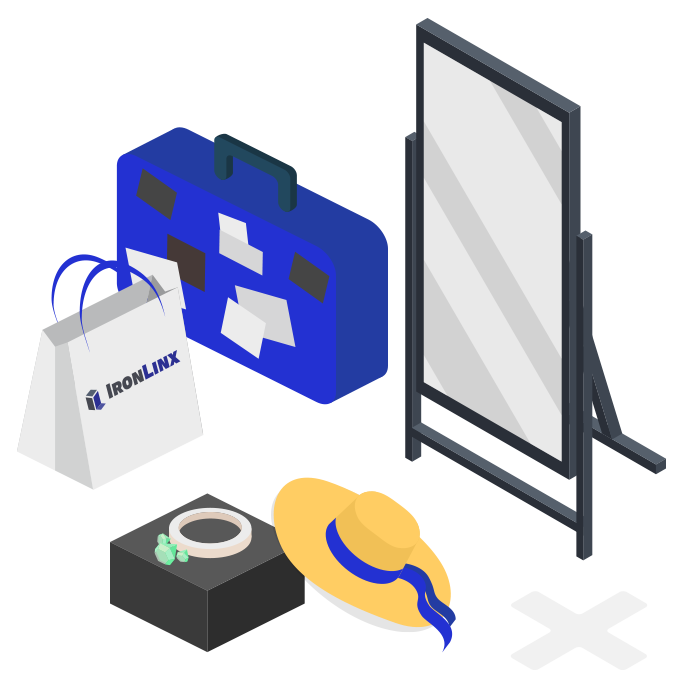 Special Packaging and Handling Needs
Across-the-board, fashion products generally require special packaging and handling procedures. A blazer, for instance, demands precise folds in order to fit into a carton and emerge (along with the brand) unscathed. Likewise, shoes, handbags, and clutches, among other items, are best shipped with filler paper (or similar materials) inside and dust bags on the outside. Due to fragility and value, jewelry demands its own special set of packaging and handling needs which often involve as many as three cartons. Consider, as an example, a ring or bracelet which may ship in an ornate presentation box which is then placed inside of a gift box which is then placed inside of an outer shipping carton. At IronLinx, we embrace the nuances of the fashion space and have the experience and capabilities to handle even the most complex packaging and handling needs.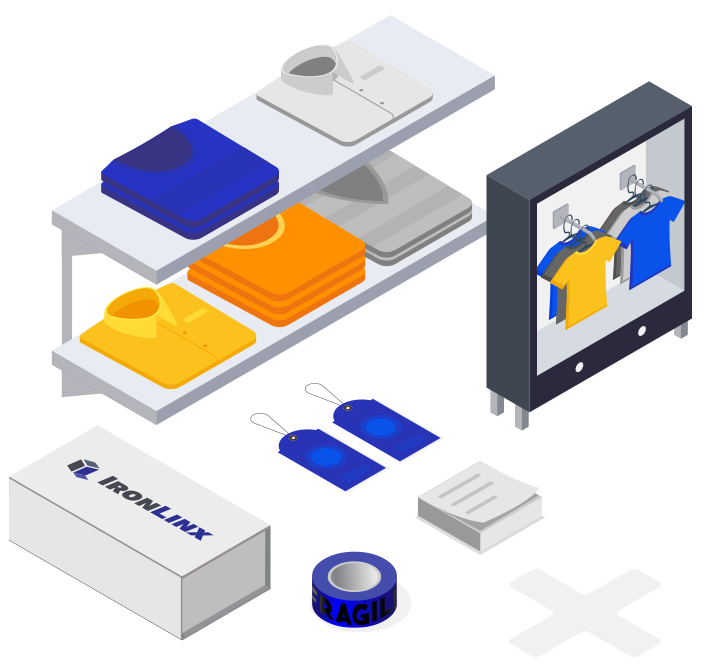 Custom Pack-Outs – Branded Packaging Materials, Marketing Inserts, and Return Labels
Outstanding customer experiences demand custom pack-outs—especially when the price tag is substantial. In the fashion space, pack-outs can be particularly nuanced: branded shipping cartons, display boxes, and polybags; custom corrugated inserts, tissue, and crinkle paper; product guides, note cards, gift certificates, and return labels; and, certainly not least, precise packing and handling guidelines. IronLinx has been engaged in customized fulfillment services for more than a decade and a half and is able to design and procure an array of packaging and promotional materials through a sister company.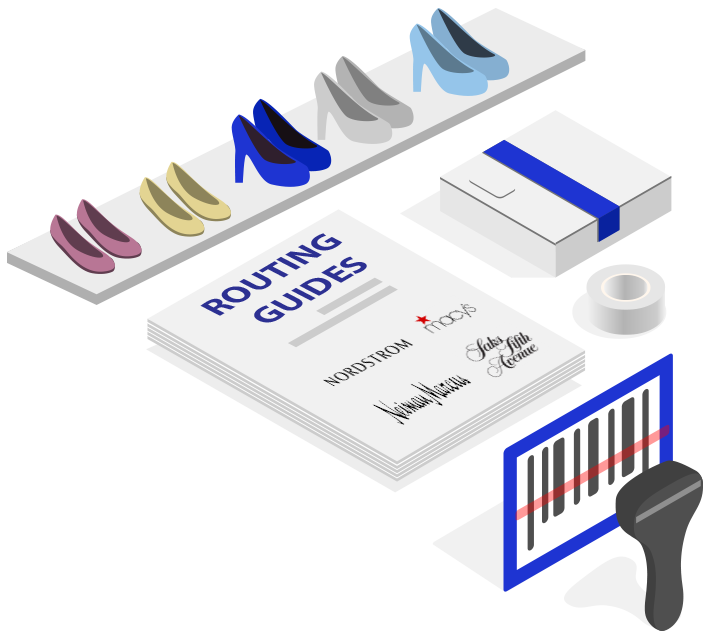 Wholesale Routing Guide Compliance
Fashion retailers like Neiman Marcus, Nordstrom, Saks Fifth Avenue, and Barney's are notoriously difficult when it comes to their routing guides. Designed to help large retailers efficiently handle inbound carton, pallet, and container-based receivings from a myriad of suppliers, routing guides set the rules for inbound shippers. Seemingly insignificant errors such as the use of prohibited void fill materials (packing peanuts are almost always on the do not use list), unreadable barcodes (Code 128 as opposed to UPC), and random incorrect item picks can easily lead to borderline obscene chargebacks and even shipment rejection. Through experience and technology, IronLinx is able to make routing guide compliance significantly less burdensome.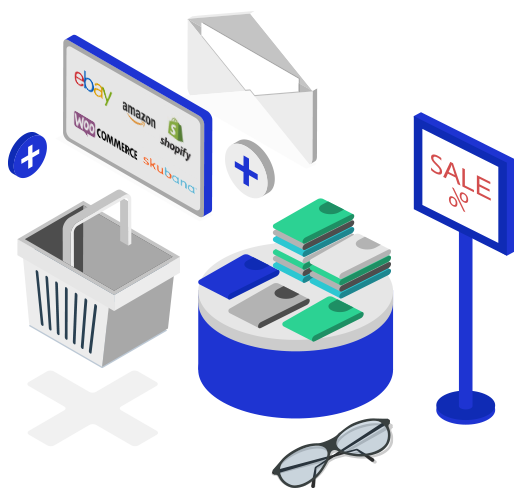 Multi-Channel Integrations
Given current conditions, fashion brands generally have little choice but to embrace multi-channel sales; in fact, it is more common than not for a fashion brand to have multiple proprietary websites, Amazon stores, and eBay stores, among others. Needless to say, going from one to multiple stores makes supply chain management – and order fulfillment – substantially harder. To simplify things as much as possible, IronLinx has pre-wired integrations with more than eighty sales platforms—and can integrate directly with many multi-channel platforms including Skubana and TradeGecko.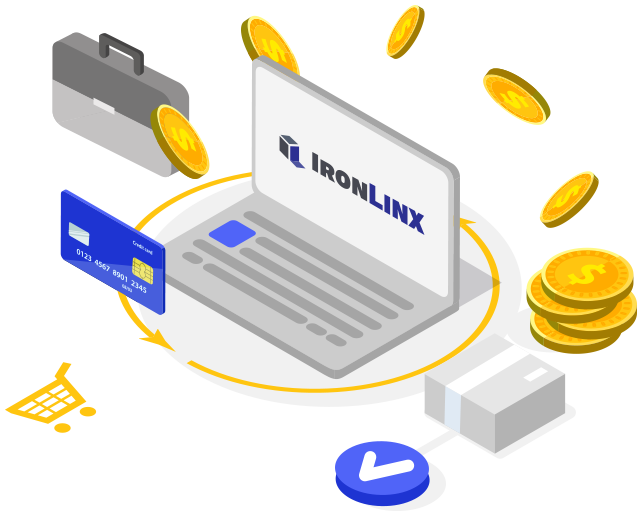 Returns Management
More so than in any other industry, returns management plays a substantial role in the fashion space. In fact, the inadequate handling of returns and/or exchanges—one of the more nuanced aspects of the order fulfillment process—is a frequently-cited driver of customer service problems, poor reviews, and lost opportunities for repeat business and/or referrals. For more than a decade and a half, IronLinx has worked closely with its clients to custom-tailor returns management processes to precisely meet their unique needs.